12
Ingredients
700g pork tenderloin, sliced into strips
1 tsp cumin
1/2 tsp salt
1/4 tsp pepper
2 tbsp olive oil
1 red onion, sliced
2 red capsicum, deseeded and sliced
8 flour tortillas
1-2 avocados, sliced or diced
1/2 cup coriander
1/2 cup (125ml) sour cream
Method
Step 1. Season pork with cumin, salt and pepper. Heat a frying pan to high heat, add 1 tablespoon of oil and cook pork until just done. Cover to keep warm.
Step 2. Return the same frying pan to medium heat, add remaining oil and fry onion and capsicum until softened (about 5-7 minutes).
Step 3. Warm tortillas in the oven (or microwave for 1 minute on high).
Step 4. Place pork into tortillas, add capsicum mixture and top with avocado, coriander and sour cream.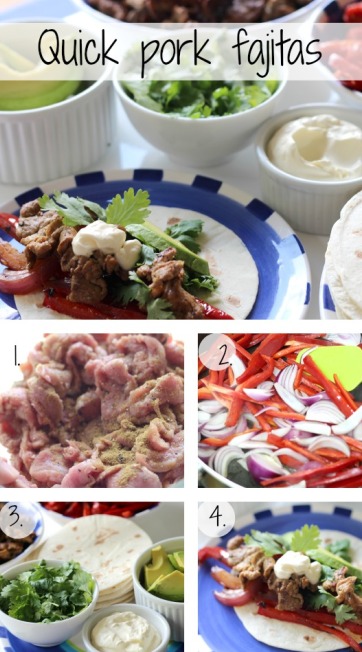 Notes: