Salted caramel and ganache tarts
Serves:
Ingredients
1/4 cup (60ml) cream (pouring or thickened)
200g dark cooking chocolate, broken into cubes
12 ready-made tarlet cases
12 tbsp slow cooker salted caramel (this is equal to one tin)
12 strawberries (for garnish)
Method
Step 1. Place cream in a glass bowl and microwave on high for 20-30 seconds. When hot, add dark chocolate pieces.
Step 2. Using a metal spoon, mix chocolate and cream well until all chocolate is melted and you have a smooth mixture. You may need to return to microwave for 5-10 second bursts until you have smooth glossy ganache.
Step 3. Spoon tablespoon-sized amounts of salted caramel into the tartlet cases and smooth over with the back of a spoon.
Step 4.  Spoon warm ganache over the caramel and tap bases gently on the bench to smooth over the tops. Slice strawberries into fan shapes and place on top.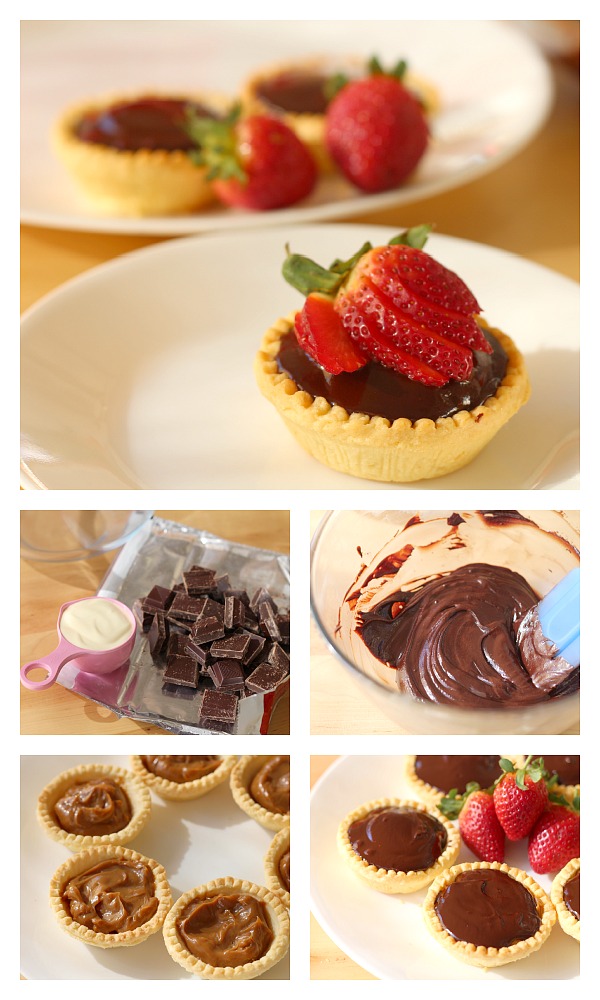 Find more delicious dessert recipes
Serving Suggestions
Note
We chose to top these with ganache but if you a hard chocolate top, you can just use melted chocolate on top of the caramel and refigerate until set.
We chose tartlet cases but you could make a large tart case using these ingredients or even use bite-sized mini-tarts for this recipe.
If you love pancakes, you could make these Banana pancakes with caramel sauce for brekky.
Frozen yogurt is delicious and refreshing and this Caramel banana frozen yoghurt is better than store-bought ice cream.
If you want a warming winter dessert then Caramel and pear self-saucing pudding will have them licking their bowl.
Slices are the perfect afternoon tea treat and this Chocolate caramel slice will disappear fast.
You can make this Caramel sauce to go over ice cream and if you have slightly more sophisticated taste then this Salted caramel sauce is lovely over ice cream too.
If you want to make Caramel filling on the stove top it only takes 2 hours v's 8 hours for slow cooker salted caramel.
These Caramels are the perfect homemade confectionery to give as gifts.
This recipe was created by Jennifer Cheung for Kidspot, New Zealand's best recipe finder.