Chocolate dipped strawberries
Serves:
Ingredients
250g pkt dark or milk chocolate melts
250g punnet large strawberries
various red and pink sprinkles
Method
Step 1. Melt chocolate in a heatproof bowl over a saucepan of simmering water. Alternatively, melt in short bursts in the microwave.
Step 2. Push skewers or cake pop sticks into the stem end of the strawberries.
Step 3. Dip strawberries into chocolate and allow excess to drip off.
Step 4. Dip in sprinkles to coat.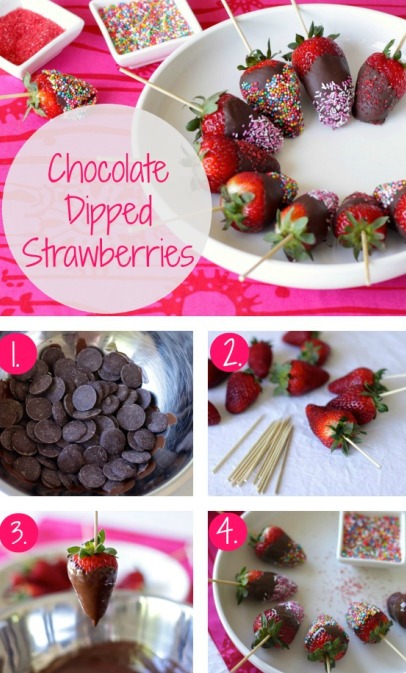 Serving Suggestions
Note
You could use white chocolate if you prefer.
You will have leftover chocolate which can be stored in the fridge and melted next time you want to indulge.
If you love your choccie treats to contain a little bit of extra hidden goodness, this moist Chocolate beetroot cake will definitely be to your liking.
Looking for a yummy dessert to satisfy a crowd of kids? This layered Chocolate lasagne promises to be a huge hit.
This adult's only Best-ever chocolate pudding is a great way to finish off a dinner party. Just keep any leftovers away from the kids!
Take a traditional Anzac biscuit and it turn into an irresistible chocolate surprise with this recipe for Anzac brownies.
This No bake chocolate cheesecake means that you don't need to be anywhere near an oven to get your homemade chocolate fix.
Great for parties, this recipe for Chocolate dipped apple slices will ensure the kids get a serve of fruit with their chocolate.
Keep a jar of these Healthy chocolate power balls in the fridge, for those times when you're really hankering for something sweet.
This Low-fat chocolate cake is perfect for when you're watching your waistline, but don't want to miss out on all the fun!
Make your own morning pastries with this recipe for Banana and chocolate parcels. Every single bite will utterly delight you.
Looking for a way to sneak extra veggies into your kids' diet? Look no further than these moist Zucchini brownies. So yum!