Easter chick pops
Serves:
Makes 20
Ingredients
150g white chocolate melts
100g white marshmallows
10 yellow M&M's
1-2 red licorice twists
black icing pen
You will also need:
Method
Step 1. Melt white chocolate in a bowl placed over a saucepan of simmering water. Alternatively, melt in short bursts in the microwave.
Step 2. Push marshmallows onto the pop sticks. One by one, dip into the melted chocolate, allowing excess to drip off.
Step 3. Cut M&M's in half with a sharp knife. Cut 4mm slices of licorice and then cut those across into half moons. Working quickly before the chocolate has completely set, press a half M&M into the front of the marshmallow and a licorice piece onto the top. Refrigerate to set completely.
Step 4. Once set, using icing pen, squeeze a small amount onto each marshmallow to form the eyes.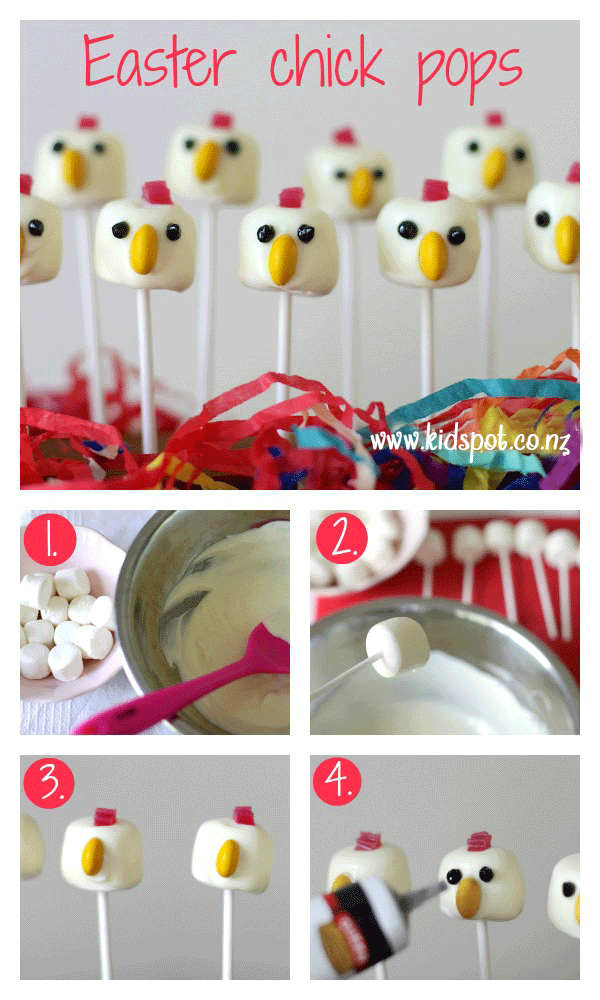 Serving Suggestions
Note
Pop sticks are available from kitchenware and cake supply shops, or try online.
It's handy to use a block of florist's foam to keep the pops upright.
Any leftover chocolate can be stored in the fridge and re-melted next time.
You will also love this cute Easter bunny breakfast. It is the perfect savoury start to Easter Sunday for your little ones.
On the day you have your Easter egg hunt you could make these cute Bunny butt pancakes. They are just like those bunnies in the garden.
If you love Hot cross buns you will love these Hot cross cookies. They are the perfect compromise and much faster to make than their traditional cousins.
These Coconut cream eggs are perfect for when you need to know exactly what is in your Easter treats. The kids will also love making these with you.
This Cream egg cheesecake is worthy of being the centrepieces for your special Easter dinner. It is easy to make ahead and will please the whole family.
These Carrot topped cupcakes are topped with sweet marzipan but don't be fooled into thinking they are all sweet. The cupcakes under the carrots have a zingy lime flavour.
This recipe was created for Kidspot, New Zealand's best recipe finder by Greer Worsley, who blogs at Typically Red.