6
Ingredients
2 tbsp olive oil or butter
1 small brown onion, finely sliced
1 clove garlic, crushed
1 medium zucchini, finely sliced
1 medium red capsicum, de-seeded and finely sliced
1 cup potato, peeled, grated and with moisture squeezed out
6 eggs
2 tbsp grated cheese
salt and pepper
Method
Step 1. Heat the butter or olive oil over a medium heat in a frying pan.
Step 2. Add the garlic and onion and saute for two minutes. Add the capsicum and zucchini and cook for a further two minutes. Add the potato and continue to cook for another two minutes.
Step 3. Grease the rice cooker bowl with canola spray or olive oil. Add the eggs to rice cooker and lightly beat until combined. Spoon in warm vegetables and cheese, season to taste and set to cook with the lid on. If your frittata isn't cooked after the cook cycle you can leave it on the warm cycle for an extra 10 minutes to allow it to set.
Step 4. Remove the cooked frittata from the rice cooker by inverting onto a plate. Slice into four and serve with a garden salad.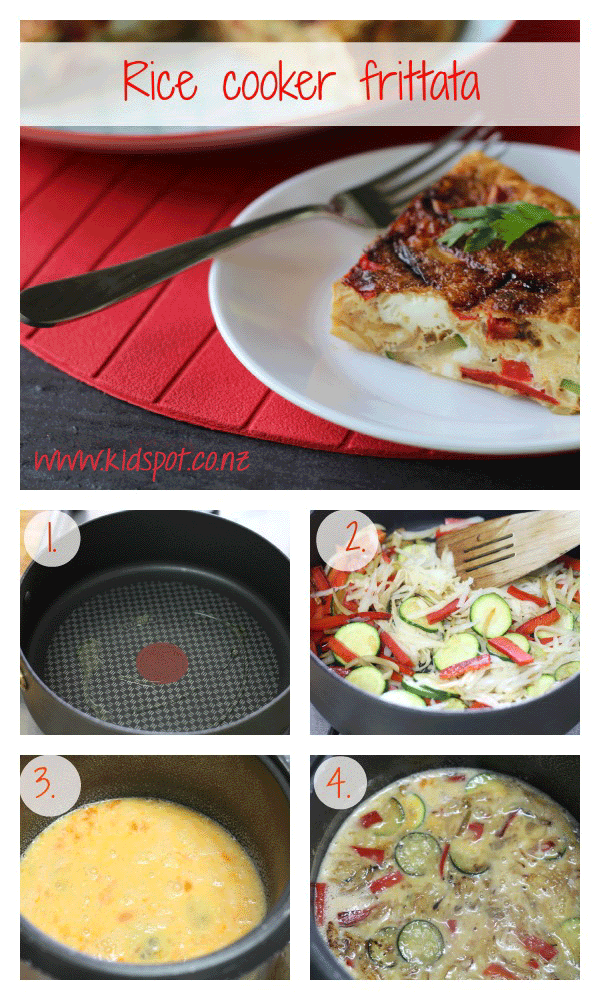 You can use your own favourite combination of vegetables in this recipe or even used leftover vegetables from a recent meal.
It is best to squeeze out the moisture from the potatoes or it will make your frittata too moist.
If yo love bacon then this Healthy bacon and vegetable frittata recipe may be the one for you.
This Chorizo and potato frittata has spicy chorizo which marries with potatoes very well as they soak up all the flavour.
If you have some spinach in the fridge then try this Mushroom and spinach frittata.
I like to roast extra vegetables at dinner so I can use them the next day for this Roast vegetable frittata.
Are you looking for something to do with leftover ham? Try this Ham frittata.
When leek are cheap then this Leek, zucchini and cheese frittata is a great light meal.
This recipe was created by Jennfer Cheung for Kidspot, New Zealand's best recipe finder.