Serves 4
Ingredients
4 fresh free range eggs
3 tbsp full fat milk
4 rashers bacon
blueberries, raspberries and natural yoghurt, to decorate
Method
Step 1. Remove bacon to a plate lined with kitchen paper, wipe the saucepan clean and then add the egg mixture.
Step 2. Cook, stirring occasionally until the eggs are scrambled to your liking then divide among four bowls or shallow glass jars.
Step 3. Decorate the bowls of scrambled eggs with the bacon for ears (slice the rashers in half first, as per picture), a raspberry for a nose and two blueberries on a blob of yoghurt for eyes.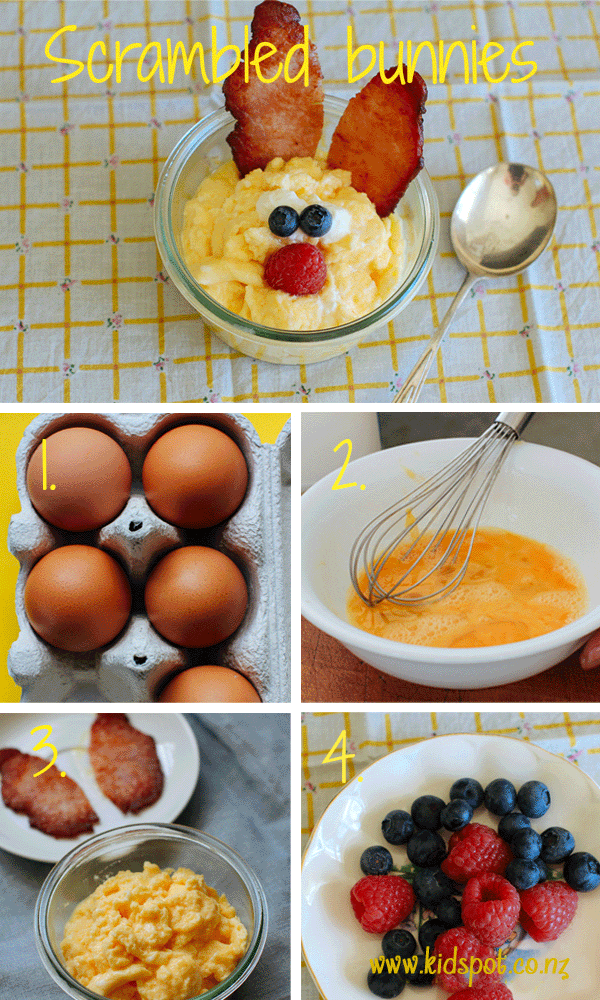 Use thinly sliced cheese strings to give the bunnies whiskers.
And don't just stop at bunnies, let yours (and the kids') imaginations go wild and make other faces too … use carrots, tomatoes, whatever you fancy.
You will also love this cute Easter bunny breakfast. It is the perfect savoury start to Easter Sunday for your little ones.
On the day you have your Easter egg hunt you could make these cute Bunny butt pancakes. They are just like those bunnies in the garden.
If you love Hot cross buns you will love these Hot cross cookies. They are the perfect compromise and much faster to make than their traditional cousins.
These Coconut cream eggs are perfect for when you need to know exactly what is in your Easter treats. The kids will also love making these with you.
This Cream egg cheesecake is worthy of being the centrepieces for your special Easter dinner. It is easy to make ahead and will please the whole family.
These Carrot topped cupcakes are topped with sweet marzipan but don't be fooled into thinking they are all sweet. The cupcakes under the carrots have a zingy lime flavour.
This recipe was created by Sophie Hansen for Kidspot, New Zealand's best recipe finder. You can follow Sophie on Local is Lovely, Facebook, Twitter or Pinterest.