Serves 2
Ingredients
2 tbsp olive oil
2 tbsp balsamic vinegar
2 slices sourdough bread
100g grape or cherry tomatoes
100g feta cheese
handful basil leaves
Method
Step 1. Combine olive oil and balsamic in a small jar and shake well.
Step 2. Remove crusts from bread and cut into a 1.5cm dice.
Step 3. Slice tomatoes in half. Cut feta into cubes.
Step 4. Combine bread, tomatoes, feta and basil in a large bowl, drizzle over dressing and toss well. Set aside to allow bread to absorb dressing.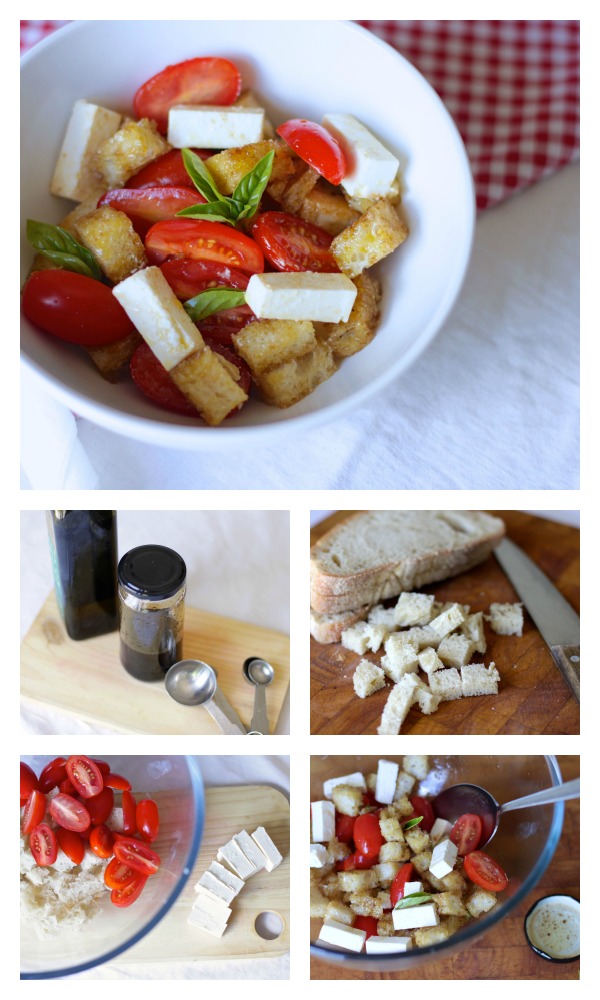 Notes
Choose any type of rustic bread, preferably slightly stale. This recipe won't work with white sliced.
Sliced chargrilled capsicum are delicious with this.
This Boys' bean salad works very well in lunch boxes and is perfect for those that won't eat a sandwich.
You can also make this Cherry tomato and tuna pasta salad. The tuna gives the lunch box an extra hit of protein that is perfect pick-me-up.
You can make this Chicken pasta salad for dinner and take the leftovers in a container for an easy lunch. Just make sure you include an ice brick to keep you lunch cool.
This Chickpea salad is perfect for vegetarians and great for little ones that love hummus. Just be sure to pack a spoon so those chickpeas don't roll away.
Quinoa is an ancient grain and a nutritious superfood so this Crunchy quinoa salad ticks all the healthy boxes for a great lunch box.
This Caprese salad is full of fresh flavours and is perfect when served chilled and fresh. Make sure you put the dressing on the side so it doesn't get soggy in that packed lunch.
If you have a little one that loves mild curry then this Curried chicken salad will be a certain hit. It's old school for a great school lunch!
This recipe was created for Kidspot, New Zealand's best recipe finder by Greer Worsley, who blogs at Typically Red.