Valentines Day heart-shaped cupcakes
Ingredients
100g butter
2/3 cup caster sugar
1 tsp vanilla essence
2 eggs, lightly beaten
1 cup self-raising flour
1/3 cup cocoa, sifted
1/2 tsp bicarbonate soda
125ml (1/2 cup) milk
Topping
300ml thickened cream
1 tbsp icing sugar, sifted
1 tsp vanilla extract
sprinkles
Method
Step1. Preheat oven to 180å¡C conventional or 160å¡C fan-forced. Line cupcake tins with cases.
Using a mixer, cream butter, sugar and vanilla until creamy and fluffy. Gradually add eggs and mix until just combined.
Combine flour, cocoa and bicarbonate soda. Add to creamed mixture with milk. Beat until just combined. Spoon mixture into liners until each case is 1/3 full.
Step 2. Place a marble into each cupcake tin hole between pan and cupcake liner to create heart shape. Bake for 15-20 minutes.
Step 3. Leave to cool in tin for 10 minutes before removing cupcakes to cooling rack.
Step 4. While cupcakes are cooling, whip cream until thick and add icing sugar and vanilla to flavour.
Place cream into piping bag and pipe onto cooled cupcakes. Add sprinkles and serve.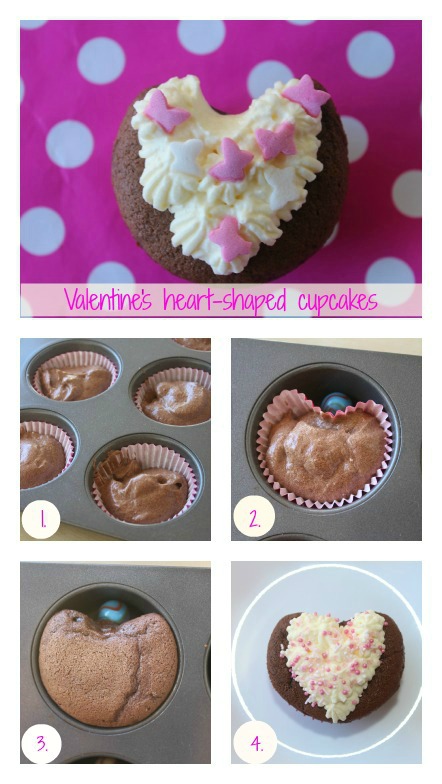 Note
Do not fill cupcake liners more than half full. It there is too much mixture it overflows and loses its heart shape.
It's very important that you cool the cupcakes entirely or the topping will slide right off.
You can also top these with buttercream icing if you prefer.
This recipe was created by Jennifer Cheung for Kidspot, New Zealand's best recipe finder.