If it was up to most mums, kids would be eating fruit at all meals. But, let's face it, kids are fussy little characters and as much as we may want to, we can't force-feed them. But there are ways you can make fruit more appealing to kids and it all lies in the presentation. A simple way to get your kids to eat fruit is to make it look fun and exciting.
Here are eight cute ideas to make your kiddies fall in love with fruit.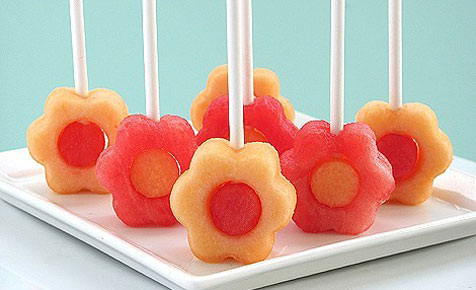 1) Fruit pops from Bakers Royal
Check out these sweeties. Grab a few slices of watermelon, rock melon, popsicle sticks and some cookie cutters and you can create these flower fruit pops. Simply cut out the shapes, insert the sticks and enjoy your "ta-da" moment. Find the easy step-by-step recipe at Bakers Royal.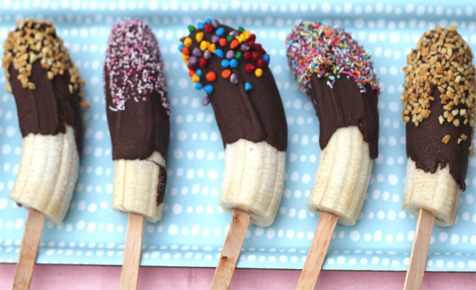 2) Bananas in pyjamas from Kidspot
Turn a boring old banana into a special treat with this cute idea. Simply freeze a banana on a paddle pop stick and dip it into melted chocolate, then let the kids 'dress' their own banana by rolling it in their favourite lollies, nuts or sprinkles. This is a great afternoon activity to do with the kids and we guarantee that the bananas in the fruit bowl will be all gone when you've finished!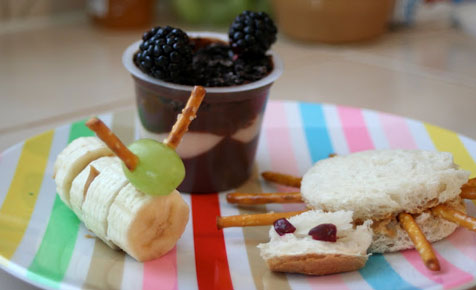 3) Banana bug from Little Page Turners
Turn lunchtime into bug city with a cute banana 'caterpillar', a 'spider' sandwich and a delicious blackberry beetle pot of 'dirt'. Head over to Little Page Turners to find out how to make this quirky platter of critters but be warned, the kids won't be able to resist playing with their food when you serve it up!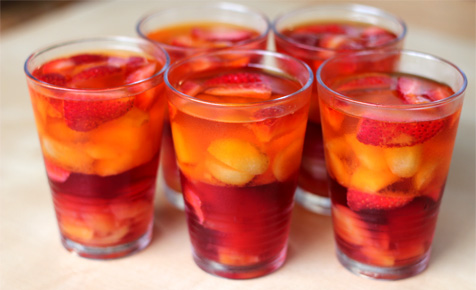 4) Fruit and jelly cups from Kidspot
Create a splash at snack time with these eye-catching fruit and jelly cups. Just cut up your child's favourite fruit, add the jelly, pop in the fridge to set and voilà, you have yourself a fruit-filled snack that the kids will love. These are also a hit at kids' birthday parties, so keep this recipe in mind when the next party rolls around.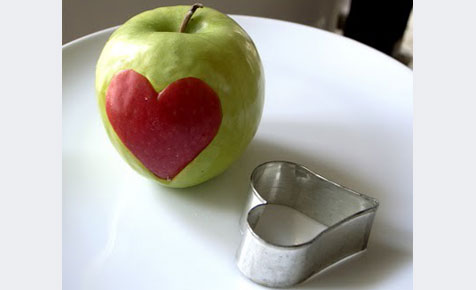 5) Apple skin heart from Babble
Show your kids some love in their lunch box by surprising them at snack time with this gorgeous heart apple. Simply grab a green and a red apple, cut out a heart shape, or use a cookie cutter, and then trade the pieces – nothing says "I love you" like a heart!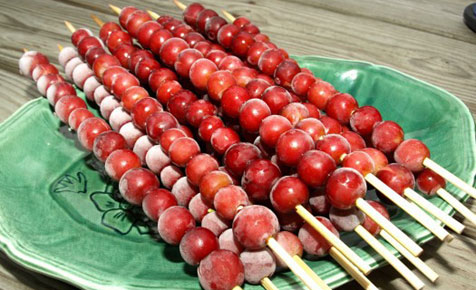 6) Frozen grape kebabs from The Accidental Hostess
Kids will eat almost anything off a stick. It's strange, but true. This snack is oh-so-easy and a healthy alternative to iceblocks. Just skewer some grapes onto kebab sticks and freeze them. It's as easy as pie. Get the kiddies to help with the threading by cutting off the sharp ends and letting them go for it.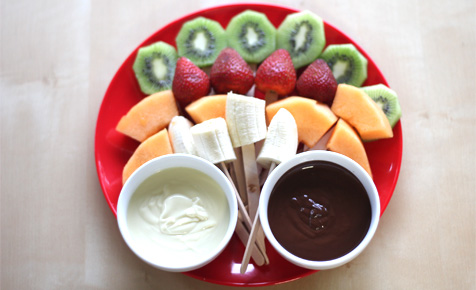 Fruit sticks with chocolate dip from Kidspot
Calling all chocoholics. If there was one way to get kids to eat fruit this would be it. All it takes is two types of yummy melted chocolate and a whole pile of delicious chopped fruit. Add a few sticks to the larger pieces and get them dipping. The whole family will love this one. After all, who doesn't love chocolate … and um, fruit, of course?!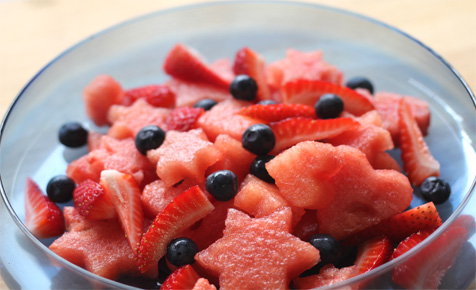 Hearts and stars fruit salad from Kidspot
Feast your eyes (and stomach) on this beautiful fruit salad. Use cookie cutters to create fun shapes out of watermelon and add some strawberries and blueberries to make this special fruit salad all pink and purple. You can also pop this into your child's lunchbox, or sprinkle stars and hearts all over pancakes for an extra fruit boost they'll love.