8-Dec
Ingredients
600ml thickened cream
1 tin (395g) sweetened condensed milk
2 pkts Oreo cookies
1 x Ice Magic (220g)
Method
Step 1. Line a baking tin with cling film and set aside. We used a heart-shaped tin.
Step 2. In a large mixing bowl, whip the cream until thick and add the condensed milk until just combined.
Step 3. Place Oreo cookies into a resealable bag and crush with a rolling pin. Stir crushed cookies through cream mixure and combine.
Step 4. Pour mixture into lined tin and freeze overnight. Lift cling film out to release ice cream from tin and place on a serving plate. Drizzle with Ice Magic and add sprinkles of your choice.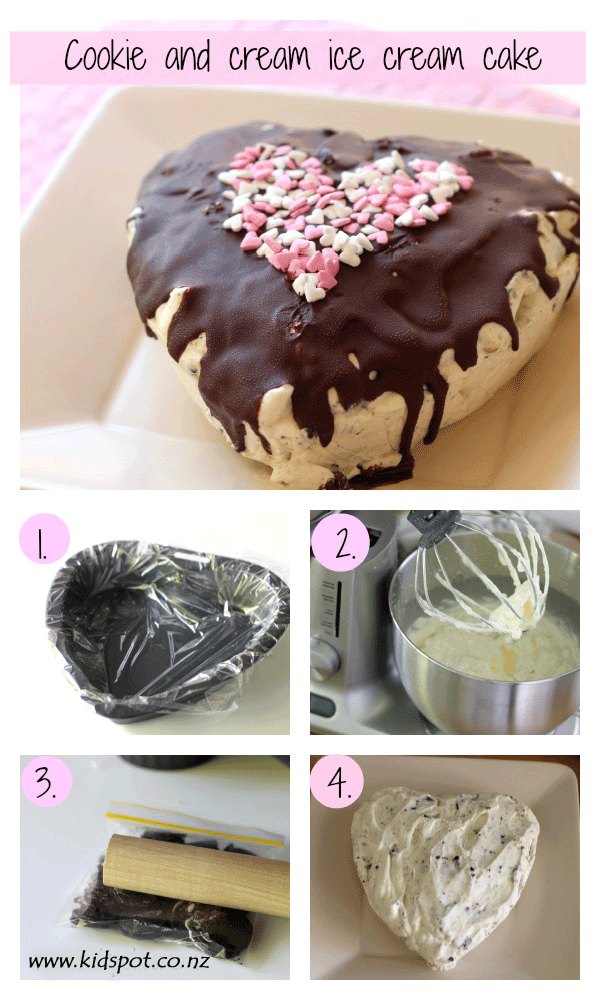 Notes:
We used one packet of Oreos for this recipe but you add more or less depending on how much chocolate-y goodness you like.
Crushing up the Oreo biscuits in a resealable bag is great fun for the kids to do.
We used a heart-shaped tin but a square, round or loaf tin will work just as well.
If are a real Oreo lover then you shouls also try this 3 ingredient Oreo dessert.
We also use Oreos in this Chocolate lasagne as well as slayers of cream and pudding.
Oreos make an appearance in these Princess Leia cupcakes for her hairstyle and in these Elmo cupcakes too.
We made the naughtiest Deep fried Oreos by dipping them in a delicious batter and popping them into hot oil.
We crushed up Oreos for this White chocolate bark. It makes a delicious gift at Christmas.
In these Oreo spider cupcakes we have used licorice for the spider legs.
If you really love Oreos but need to make your cookies from scratch then you can try these Homemade Oreo cookies.
This recipe was created by Jennifer Cheung for Kidspot, New Zealand's best recipe finder.