Fruit and yoghurt roll-ups
Serves:
Ingredients
1/2 cup (110g) sugar
1 tbsp ground cinnamon
1/4 cup (60g) butter, melted
10 flour tortillas
1 1/2 cups (390g) vanilla yoghurt
500g mixed frozen berries
Method
Step 1. Mix cinnamon and sugar and place on a plate.
Step 2. Brush a tortillas with melted butter and press into cinnamon and sugar mixture.
Step 3. Place on a plate, cinnamon side down and spread a few tablespoons of yoghurt on the tortilla.
Step 4. Place berry mixture in the centre of the tortilla and roll up. Place on a tray and freeze.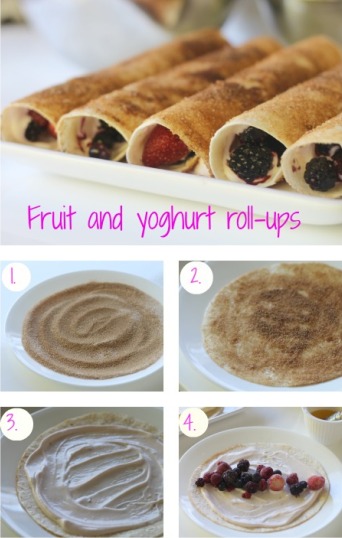 Find related fruit recipes
Serving Suggestions
Note
You don't have to freeze these. They taste great without being frozen and the berries defrost quickly.
I used mixed frozen berries without defrosting them for this recipe.
You can make these with a few different fillings. They also taste great with custard and apple pie filling.
This recipe was created by Jennifer Cheung for Kidspot, New Zealand's best recipe finder.