One-pan mini meatloaf dinner
Serves:
Ingredients
1 kg red potatoes
4 tbsp olive oil
3 tbsp plain flour
500g lean beef mince
1 small brown onion, diced
1 cup panko breadcrumbs
4 cloves garlic, crushed
1 egg
salt and pepper
375g green beans, trimmed
1 cup tomato sauce
2 tbsp Worcestershire sauce
Method
Step 1. Preheat oven to 180°C (160°C fan-forced). Cover a large baking tray with baking paper and set aside. Slice each potato into 6 wedges and pour over 2 tablespoons of olive oil. Toss to coat, sprinkle over flour and season with salt and pepper. Tip potatoes onto baking tray and bake for 20 minutes.
Step 2. Meanwhile, place the mince, diced onion, breadcrumbs, 2 cloves of crushed garlic, egg and salt and pepper into a bowl. Using clean hands, mix all ingredients together until well combined and divide into four portions.
Step 3. Shape 4 mini meatloaves. Remove the tray from the oven and push potatoes to one end. Place the mini loaves onto the tray and return to the oven for 10 minutes.
Step 4. In a bowl, mix tomato sauce and Worcestershire sauce together.  Place beans into a bowl and drizzle remaining two tablespoons of oil over the beans and toss with remaining crushed garlic cloves. Remove the tray from the oven and spoon sauce over meatloaves generously. Push wedges to the centre and add the beans to the end of the tray. Bake for another 10 minutes and serve.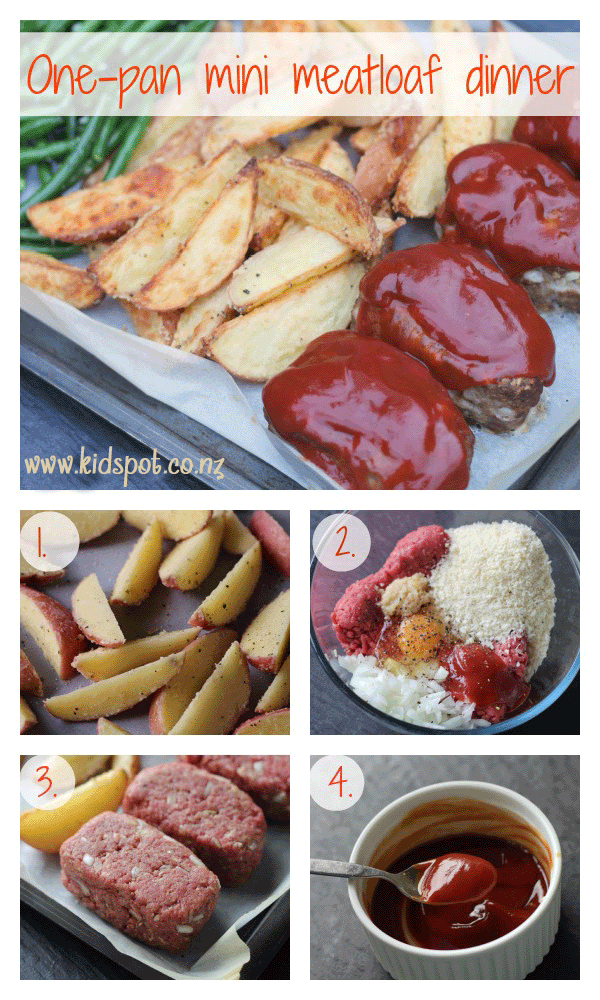 Serving Suggestions
Note
You can easily feed a crowd with this recipe by making it on three trays instead of one. It is fast and tasty.
We used a combination of tomato and Worcestshire sauce to top these meatloaves but you could also use barbecue sauce.
You can switch out the green beans in this recipe for capsicum slices, zucchini or even cauliflower.
This One pan caprese pasta is a delicious Italian twist on pasta and is full fresh flavours.
If you love creamy pasta the this One pan chicken alfredo is a great meal that the whole family will love.
This bake-in-the-oven One pan chicken and sage dinner is easy and everyone loves chicken.
If you want all the flavours of lasagne but can't be bothered to go through the whole ordeal, you should try this One pan lasagne.
The fresh lemon flavours really shine through in this One pan lemon chicken fettucini.
They don't come much simpler than this delicious One pan roasted salmon and bread salad. It's packed full of tomatoey flavour.
Do you need an easy desssert? Try this One pan chocolate cake for dessert.
This recipe wa created by Jennifer Cheung for Kidspot, New Zealand's best recipe finder.