Pork and prawn pops
Serves:
Serves 4
Ingredients
300g green (raw) prawn meat
300g pork mince
2 golden eschalots, minced
2 tbsp rice flour
2 tsp sugar
1 tsp baking powder
1 tbsp coriander, chopped
2 tbsp oil
sweet chilli sauce, to serve
Method
Step 1. In a food processor, pulse prawn meat until it forms a paste.
Step 2. Transfer prawn mince to a large bowl with pork, eschalots, rice flour, sugar, baking powder and coriander. Mix well.
Step 3. Using damp hands, form mixture into small balls. Press a skewer into each. Refrigerate until ready to cook.
Step 4. Heat oil in a large nonstick frypan over medium heat. Cook for two minutes on each side until golden brown and springy to touch. Serve with sweet chilli sauce.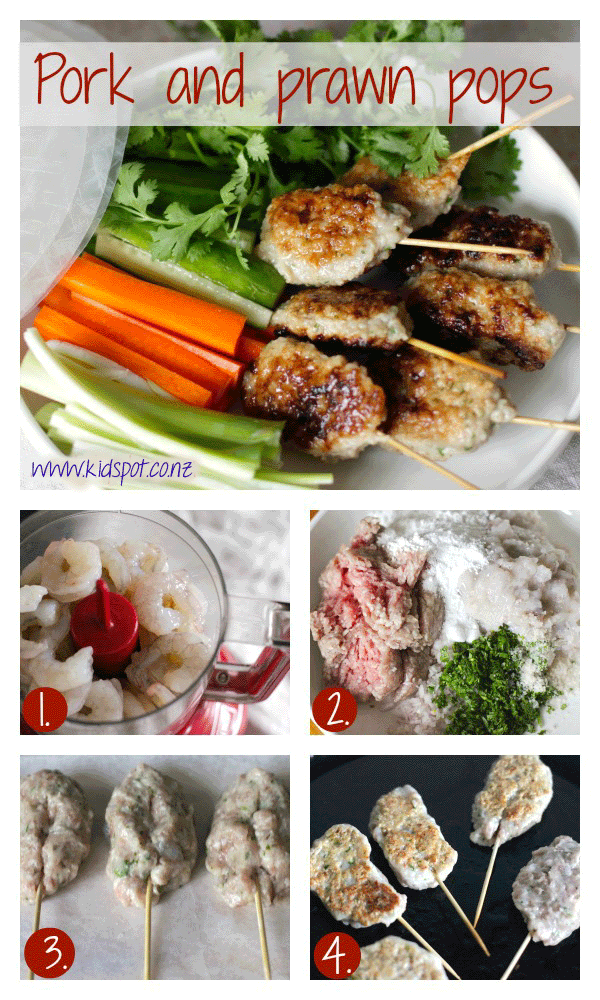 Serving Suggestions
Note
The pork and prawn mixture is quite wet and messy. However, once it cooks, it firms up quickly.
These are delicious wrapped in rice paper rolls with carrot and cucumber batons and fresh coriander.
You could also serve these with a nuoc cham dipping sauce.
These Fried wontons have very similar ingredients so you can double up and make both at the same time.
If you prefer steamed and not fried dim sum, then try these Dim sims.
These Pork and prawn spring rolls are wrapped and fried until golden. They are delicious with sweet chilli sauce.
These Pork and quinoa balls with sweet chilli sauce are a modern twist on the traditional dim sims.
You can also use wonton wrappers to make these Pork and prawn dumplings.
These Pork and prawn potsticker dumplings are a quick entree that the whole family will love.
This recipe was created for Kidspot, New Zealand's best recipe finder by Greer Worsley, who blogs at Typically Red.