Makes 2
Ingredients
2 green apples
6 green grapes
4 mini chocolate chips
Method
Step 1. Wash apples and slice the base third from the apple.
Step 2. Place the base on a serving plate and slice 4 grapes in half. Arrange them as the turtle's flippers.
Step 3. Slice one third off the remaining 2 grapes and place as the heads.
Step 4. Using the point of a knife just puncture two holes in each head for eyes. Turn the chocolate chips pointy side down and press into the holes.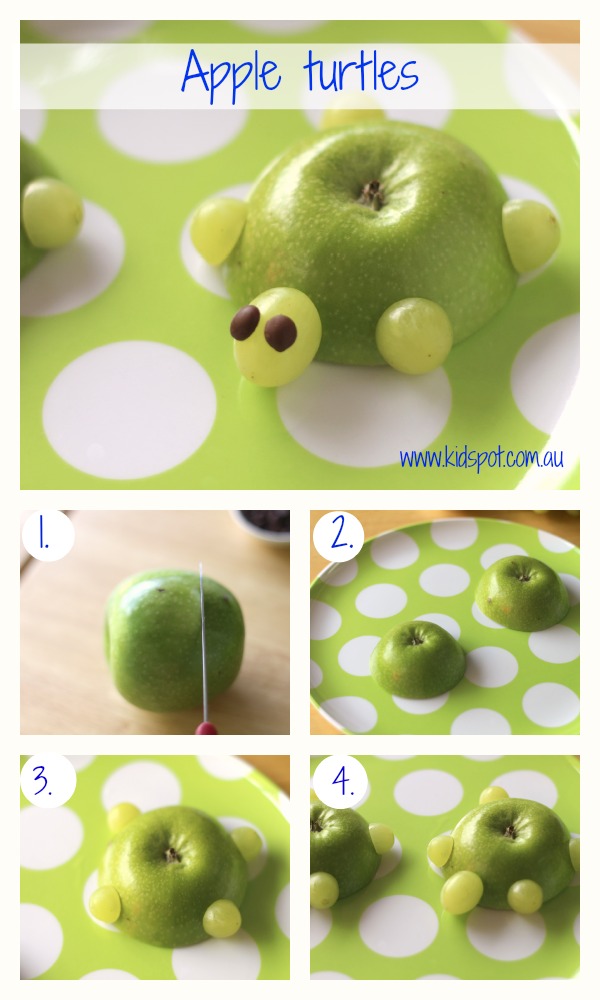 We didn't use anything other than the natural moisture from the cut fruit to piece this turtle together.
We used a green apple but you could use red apples if you have them on hand.
This is a cute way to get toddlers to tuck into their fruit.
You can get little ones to help you with these at the grape stage. Just give them a plastic picnic knife to slice the fruit.
If your little one loves Sesame Street then these Bert and Ernie fruit snacks are a fun treat.
Some yummy bananas that are full of potassium will make these Banana palm trees a real delight.
If you want to get some calcium into their diet then try this Fresh berry and fruit yoghurt. It's a win-win with added fruit.
Celebrating at Christmas has never been easier than with this Fruit Christmas tree . It makes a beautiful centrepiece for your table.
You can have these Fruit slushies in the summer time. They are all fruity goodness that is perfect for a hot day.
Hearts and stars fruit salad is a cute way to get little ones eating fruit. You can even get them to help you cut out the shapes.
If you want that fruit not to bounce back from the lunch box, you can try these Lunch box fruit kebabs for crunch and sip.
This recipes was created by Jennifer Cheung for Kidspot, New Zealand's best recipe finder.