Bacon cheeseburger pizza balls
Serves:
Ingredients
250g beef mince
1/2 small brown onion, diced
6 rashers middle bacon, diced and cooked
2 cups shredded mozzarella cheese
1 bottle (400g) ready-made pizza sauce (I used garlic, onions and herbs flavour)
1 egg, lightly beaten
2 quantities of 2 ingredient pizza dough with 2 tbsp olive oil added + flour for rolling
2 tbsp finely grated parmesan cheese
Method
Step 1. Heat a non-stick frying pan over high heat and cook beef mince and onion until the onion is translucent and mince is cooked. Remove to a bowl. Wipe out frying pan and cook diced bacon until crispy and drain on paper towel. Place cheese in a bowl. Prepare beaten egg.
Step 2. Preheat oven to 230°C (210°C fan-forced). Line a small pizza tray with baking paper and set aside. Pull off a golf ball-sized piece of dough, coat in flour and roll out to a 10cm round. Place in the palm of your hand and add 1 tsp pizza sauce, 1 tsp mince, 1 tsp bacon and 1 tbsp of cheese.
Step 3.  Gather all edges of dough together and place upside down into the dish. Continue until the dish is full.
Step 4. Brush tops of all dough balls with egg and sprinkle lightly with parmesan cheese. Bake for 30-35 minutes or until dough is cooked through and tops are golden.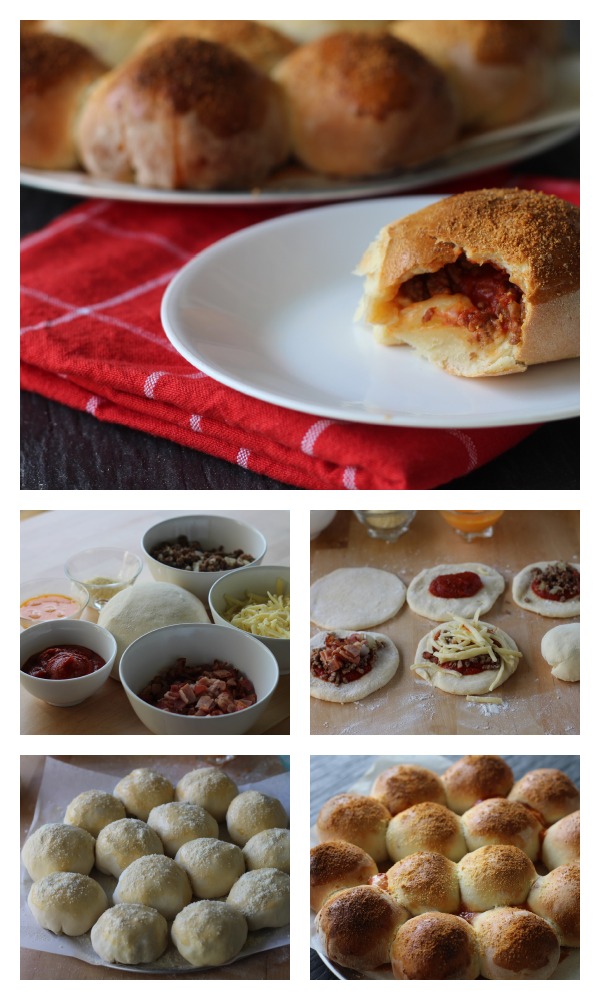 Related pizza recipes
Serving Suggestions
Note
I have added extra oil to the pizza dough so it is pliable and soft. It needs to be stretchy so it can be pulled around the filling.
Ready-made pizza sauce comes in a squeezable bottle for ease of use. You don't need to put it into a bowl unless you want to.
The oven needs to be very hot for these pizza balls so the pizza has a nice crust and cooks through.
This recipe was created by Jennifer Cheung for Kidspot, New Zealand's best recipe finder.