Makes 12
Ingredients
4 (120ml) egg whites
1/2 cup (100g) caster sugar
1/2 cup (80g) brown sugar
Method
Step 1. Preheat oven to 140°C (120°C fan-forced). Line 2 baking trays with baking paper and set aside. Using a mixer, beat the egg whites on a high speed until they form glossy peaks.
Step 2. Add one third of the caster sugar and beat until incorporated, add another third and mix then add the remaining third and mix until all incorporated. With the mixer running, sprinkle in the brown sugar a little at a time until it is all combined. Spoon even-sized rounds onto the baking tray. Push the back of a spoon into the top to make a dish for cream or fruit.
Step 3. Bake for 45-50 minutes. Wedge a wooden spoon into the door to prop it open and leave the meringues to cool for a further 1 hour.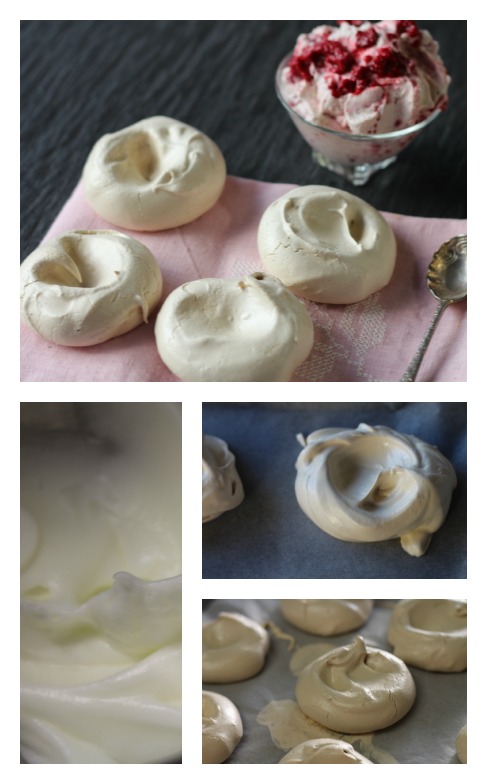 Find more delicious dessert recipes
You can tell if all of the sugar is dissolved into the egg whites by rubbing the mixture between your fingers. If it feels grainy you need to keep mixing until it feels smooth.
I like to make a divot in the centre of each blob so they will hold cream and raspberries but you can also serve these by themselves.
To make the raspberry cream in the image whip 1 cup (250ml) of cream until thick and then fold a cup of frozen raspberries through it.
These need to be stored in an airtight container.
This recipe was created by Jennifer Cheung for Kidspot, New Zealand's best recipe finder.