Ingredients
4 cups riced cauliflower
4 eggs, lightly beaten
4 cups pizza blend grated cheese
4 tsp dried oregano
4 garlic cloves, crushed
1 pinch salt
Method
Step 1. To rice cauliflower, roughly chop 1 head cauliflower.
Step 2. Place in the food processor and pulse 8-10 times. Repeat with the rest of the cauliflower.
Step 3. Place in a lidded dish and microwave for 10 minutes. Now you have riced cauliflower. Preheat oven to 220°C conventional (200°C fan-forced). Cover two pizza trays with baking paper and set aside.
Step 4. In a big bowl, mix four cups of riced cauliflower, egg and cheese until combined. Add the oregano, garlic and salt and mix until combined.
Step 5. Place half of the mixture on each tray and pat into a round shape that is around 1cm thick.
Step 6. Bake for around 15-20 minutes until the base is golden. Add your favourite toppings and return to the oven just until the cheese is melted.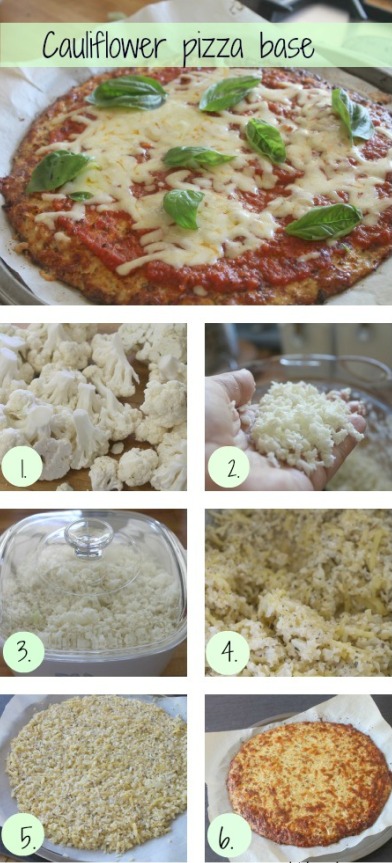 Related pizza recipes
You can refrigerate or freeze any remaining riced cauliflower for next time you make these pizzas or use it in any dish like rice.
You can make these bases as thick or thin as you like.
I didn't tell my kids that this was a cauliflower base and they ate it ALL.
This recipe was created by Jennifer Cheung for Kidspot, New Zealand's best recipe finder.