Ingredients
20 lollipop sticks
20 marshmallows
2m Christmas ribbon
1 pkt mini-pretzels
200g milk chocolate, melted
Oasis florist block
20 red mini M&M's
40 cachous (edible silver balls)
Method
Step 1. Place pop sticks into marshmallows.
Step 2. Cut small slits to enable you to push the pretzel "antlers" in later.
Step 3. Cut ribbon and tie a 10cm length around each pop stick.
Step 4. Cut pretzels in half by using a fast downward motion with a sharp knife.
Step 5. Dip each marshmallow in the melted chocolate until evenly coated. Tap excess chocolate off the marshmallow and anchor the stick into the Oasis block.
Step 6. Push pretzel "antlers" into the marshmallow and press on a red M&M for the nose and two cachous for eyes.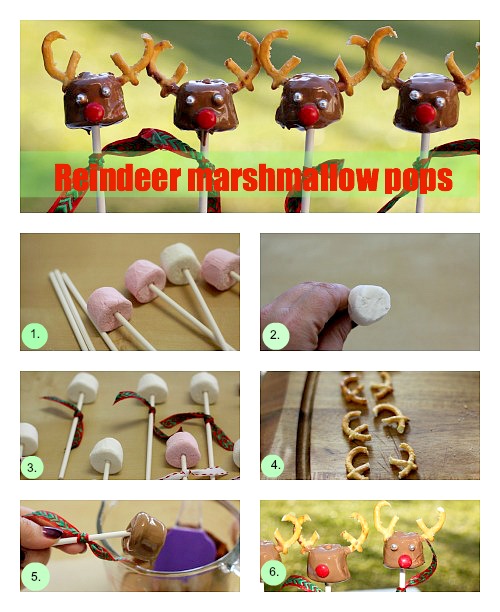 Related Christmas recipes:
You can use generic brand milk chocolate for this recipe – and dark chocolate if you prefer.
To melt the chocolate you can use a double boiler or a microwave. Microwave for 60 seconds and then stir until the chocolate is entirely melted.
If it is warm weather, you may like to allow the chocolate to set and then use a dab of chocolate to apply the decorations.
This recipe was created by Jennifer Cheung for Kidspot, New Zealand's best recipe finder.