Rice cooker chocolate cake
Serves:
6
Ingredients
1 cup (150g) self-raising flour, sifted
1/3 cup (50g) cocoa, sifted
1 cup (220g) caster sugar
1/3 cup (80g) butter, softened
1/2 cup (125ml) milk
2 eggs, lightly beaten
Method
Step 1. Grease and flour the bowl of the rice cooker (unless it is non-stick).
Step 2. Place all ingredients into a mixing bowl and using a mixer, mix on high for 4 minutes or until combined.
Step 3. Pour mixture into the rice cooker bowl.
Step 4. Press cook on your rice cooker. If you have a standard rice cooker, you will have to push the cook button several times until this cake is cooked. You may need a rest between each push so the temperature sensor can cool down. If you have an advanced rice cooker you can choose the cake selection. Test you cake with a skewer to see if it is cooked. Turn out onto a cooling rack to cool and serve with raspberries and cream.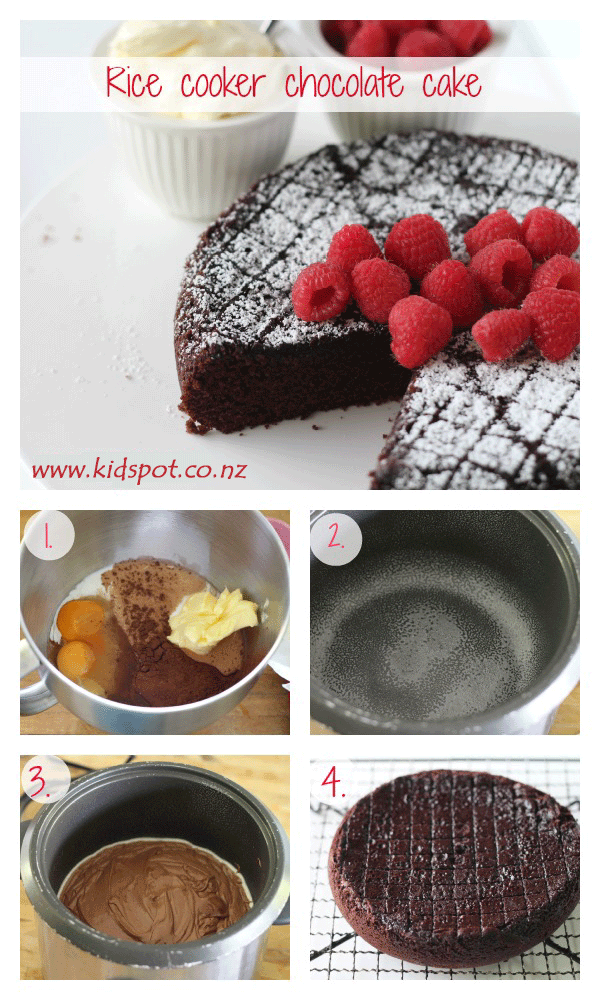 Notes:
You can double this recipe if you need a larger cake but you may also need to increase the cooking time.
We served this with raspberries but you can use any berries you like.
If you are looking for another simple recipe then try these 2 ingredient chocolate cupcakes. They give you a delicious chocolate hit.
If you are looking for a chocolate cake just like your mum used to make then try this Best chocolate cake recipe.
If you are not a fan of washing up then you can make this One pan chocolate cake. It is mixed in the pan and is so delicious that you'll want to make it over and over.
This Flourless chocolate cake is a perfect, dense recipe and tastes just like the ones you buy in cafes.
This recipe was created by Jennifer Cheung for Kidspot, New Zealand' best recipe finder.
Serving Suggestions
Note