Makes 12-16
Ingredients
2 cups (300g) self-raising flour
1 tsp bicarb soda
1 lemon, zest
1/2 cup (115g) raw caster sugar
1/3 cup (80g) butter, melted
1 cup (270g) ricotta
2 eggs
3/4 cup (180ml) milk
1 punnet (250g) strawberries
Method
Step 1. Preheat oven to 190°C (170°C fan-forced). In a large bowl, combine flour, bicarb, zest and sugar. In a jug, whisk together melted butter, 2/3 cup ricotta (reserve the rest), eggs and milk. Form a well in centre of dry ingredients and beat in liquid ingredients. Remove stems from strawberries. Set aside approximately 9-10 strawberries and dice the rest. Stir diced strawberries through batter.
Step 2. Line a 1/2 cup muffin tray with patty papers. Three-quarter fill each one with batter.
Step 3. Place a small spoonful of reserved ricotta onto each muffin. Slice remaining strawberries lengthwise into quarters and place three pieces on top of each.
Step 4. Bake for 16-18 minutes.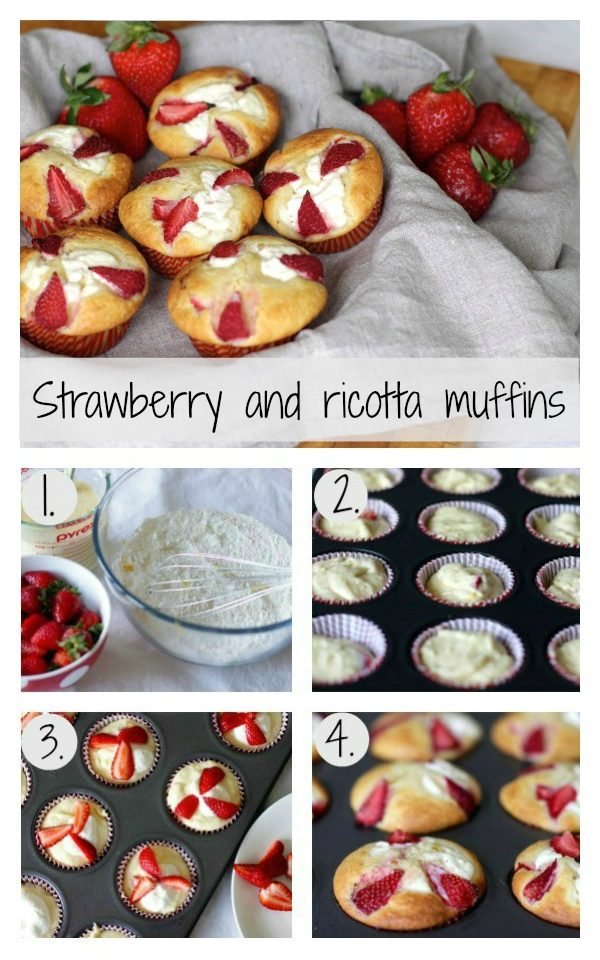 Notes
Store in an airtight container in the fridge.
Substitute strawberries with other berries or stone fruit – whatever is in season.
Including fruit in muffins is a great way to get those fruit serves in for the day and these Banana and maple syrup muffins are a real favourite.
If you are looking for a naughty treat then you can try these Double chocolate muffins. They are twice as nice.
If your kids try to skip out on a proper breakfast then lure them back with these Blackberry and muesli breakfast muffins. They will think they are having a treat and you will know they are having a good start to the day.
You can even sneak veggies into your daily baking with these Carrot and walnut muffins. Just be sure to grate that carrot finely so they don't know.
You can make these Healthy lunch box muffins so easily but be sure not to tell the kids they are healthy.
If you have an apple rolling around in the fruit bowl then these Invisible apple muffins are so easy to make and are especially nice when eaten warm.
Last but not least, when the kids go to school mums can make these very grown-up Coffee pecan muffins and sit back and relax with a nice cup of tea.
This recipe was created for Kidspot, New Zealand's best recipe finder by Greer Worsley, who blogs at Typically Red.