Makes 4 Wraps with left over meatballs.
Ingredients
1 onion, very finely chopped
1 clove garlic, finely chopped
500g beef mince
½ teaspoon dried oregano
¾ cup fresh breadcrumbs
1 tablespoon tomato sauce
1 egg
Tzatziki
½ cup plain yoghurt (the thicker the better)
1 clove garlic, finely chopped
2 teaspoons chopped fresh mint
generous pinch of salt
4 Tip Top Supersoft or Oatilicious wraps
large handful of shredded lettuce
¼ telegraph cucumber sliced into wedges
drizzle of tomato sauce (optional)
Method
Combine the onion, garlic, mince, oregano, breadcrumbs, tomato sauce and egg in a bowl and mix well. If the mixture is too wet to form into balls then add some more breadcrumbs. Season with salt and pepper.
Form the mixture into walnut sized balls.
Heat a film of oil in a frying pan and cook meatballs until well coloured and cooked through. Drain on paper towels.
Mix the tzatziki ingredients together in a small bowl.
Distribute the lettuce between the wraps and then top with 3 meatballs, a sprinkling of cucumber and a drizzle of yoghurt and tomato sauce.
Fold in the ends and wrap into a parcel.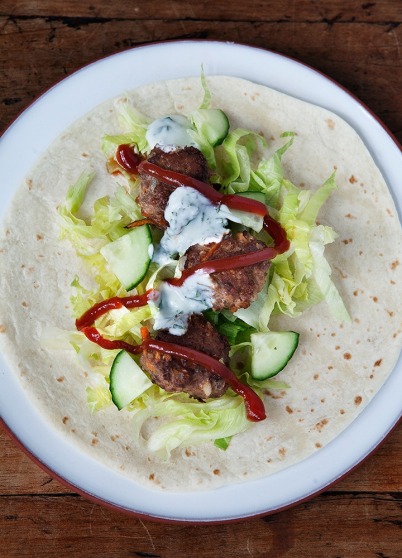 Find more Tip Top Wrap recipe ideas:
Recipe makes 24 meatballs