One pan roasted salmon and bread salad
Serves:
4
Ingredients
1 loaf Italian bread, cut into large chunks
olive oil
2 punnets grape tomatoes, halved
4 cloves garlic
3 tbsp capers
1/2 lemon, sliced finely
1/2 cup parsley, chopped
1 tsp chilli flakes
3 (about 700g) middle cut skinless salmon fillets
Method
Step 1. Preheat oven to 180°C (160°C fan-forced). Line a baking tray with baking paper. Place bread into baking pan and drizzle with 2-3 tbsp of olive oil. Toss to coat and bake for 5-7 minutes or until slightly crunchy.
Step 2. Meanwhile, in a bowl, place the tomatoes, garlic, capers, lemon, parsley, chilli flakes and season with salt and pepper. Drizzle with 2-3 tbsp olive oil and toss to coat all ingredients.
Step 3. Spoon the tomato mixture over the bread and shake the tray. Bake for 10-12 minutes or until the tomatoes start to collapse.
Step 4. Lay the salmon on top of the pan and spoon the tomato mixture over the top. Bake for a further 10-12 minutes. Remove from pan and gently flake salmon into large chunks with a fork. Season well and garnish with more chopped parsley and a wedge of lemon.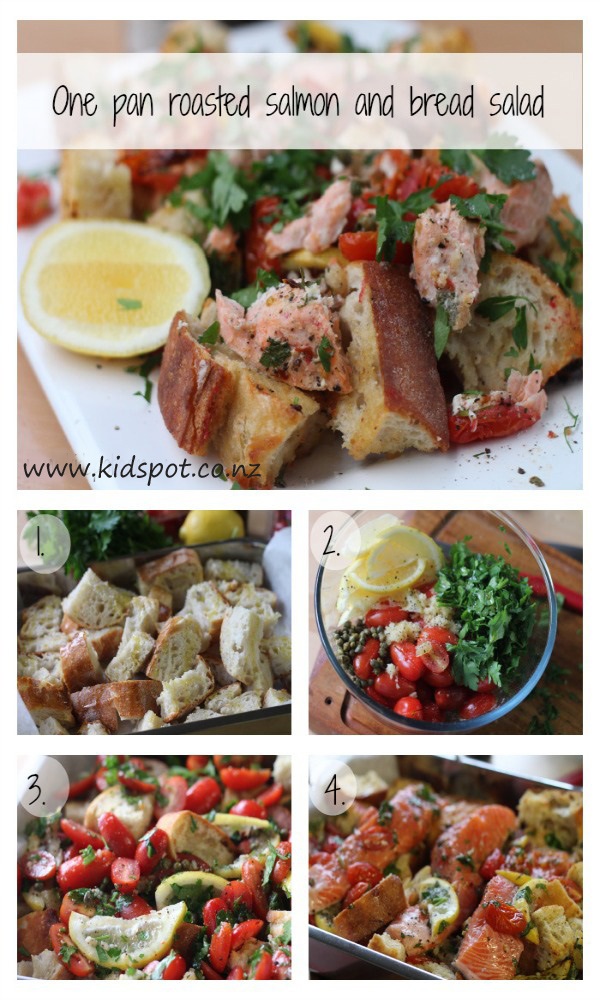 Find related salmon recipes
Serving Suggestions
Note