Rudolph pancakes
Serves:
Serves 4
Ingredients
1 cup (250ml) milk
1 egg, lightly beaten
1 cup (150g) self-raising flour
2 tbsp butter
4 rashers streaky bacon
4 white marshmallows
8 dark choc chips
4 strawberries
Method
Step 1. Make a basic pancake batter by whisking together milk and egg in a large bowl. Sift over flour and whisk until smooth.
Step 2. Melt 2 teaspoons butter in a large frypan. Pour in batter to form one large circle, one smaller circle and two triangles for ears. Cook for a couple of minutes until bubbles form, flip and cook for a further minute until cooked through. Remove and keep warm. Repeat with remaining ingredients.
Step 3. Cut marshmallows in half. Press a choc chip into the centre of each half.
Step 4. Cut bacon rashers in half and cook until crisp. To arrange Rudolph, place the large pancake on a plate. Place smaller pancake on top. Position rashers for antlers and the triangular pancakes for ears. Decorate with marshmallow eyes and strawberry nose.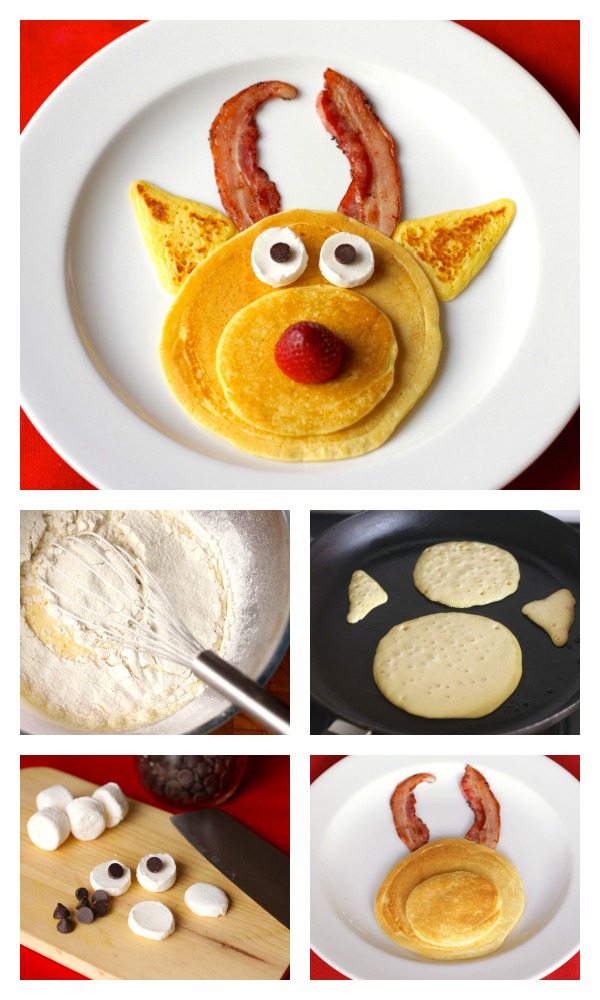 Serving Suggestions
Note
Serve with maple syrup.
Add a mashed banana to the pancake batter for some extra nutrition.
Sprinkle freshly cooked pancakes with fresh lemon juice and a dusting of caster sugar.
Maple syrup is always a favourite to serve with pancakes, but our Managing Editor's favourite are these orange syrup pancakes.
If you prefer a slightly fluffier pancake, some people swear you need buttermilk, which apparently traps air bubbles more effectively than this basic pancake recipe.
If your family is adventurous, try Kidspot's 2-ingredient pancakes. Some families swear by them, while others express disdain at the idea of eggs mixed with mashed banana.
Chocoholics can delight in our chocolate pancake recipe, or even tempt themselves with a choc chip pancake recipe. If your household loves pancakes every weekend, make up this bulk pancake recipe, which will keep in an airtight container for up to three months.
This caramel banana recipe is a delicious accompaniment to any batch of pancakes, as is this peaches and custard topping.
Wholemeal apple pancakes or berry pancakes with yoghurt are a great way to add a dash of nutritious fruit to a weekend treat breakfast. And don't forget blueberry pancakes. Yum!
Red velvet pancakes are a nice twist on plain ol' pancakes – try serving these for Valentine's Day or just to show your family how much you love them.
Adorbs! Try making these Santa pancakes for a Christmas treat breakfast or these teddy pancakes just for fun.
This recipe was created for Kidspot, New Zealand's best recipe finder by Greer Worsley, who blogs at Typically Red.