Ingredients
1 x 800ml resealable jar
1 cup plain flour, sifted
1/4 tsp bicarbonate soda
1/2 cup brown sugar
1/2 cup shredded coconut
1 cup rolled oats
Method
Step 1. Gather all ingredients.
Step 2. Layer the ingredients in the listed order into the bottom of the jar. You can use a piece of paper rolled like a funnel if you want to ease the layers into the jar. Take care to press each layer down carefully ( between layers to press down each layer) so they appear clearly on the sides of the jar.
Step 3. Make a gift tag with the following instructions: Melt 3 tbsp of golden syrup with 125g (1/2 cup) of butter. Quickly add the biscuit mix from the jar. Mix well. Roll into balls and press down with a fork. Bake at 180°C conventional (160°C fan-forced) for 15-20 minutes or until golden.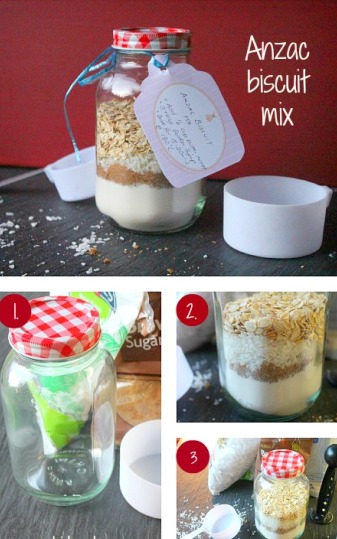 Find related Anzac recipes
We used a free printable gift tag that we found at Vale design. You can download it HERE.
You can just use a spoon to push down each layer flat, in the jar.
This recipe was created by Jennifer Cheung for Kidspot, New Zealand's best recipe finder.