Ingredients
500g ricotta cheese
2 cups baby spinach leaves, chopped
2 cloves garlic, crushed
1/2 tsp salt
1/2 tsp freshly ground pepper
375g pasta sauce
4 fresh lasagne sheets
Method
Step 1. In a bowl, place the ricotta, spinach, garlic, salt and pepper and combine. Lay out four large sheets of foil on top of each other.
Step 2. Spoon around 1/4 cup of pasta sauce onto the foil and top with a lasagne sheet. Place quarter of the ricotta mixture and then pasta sauce again.
Step 3. Repeat until all ingredients are used, ending with pasta sauce.
Step 4. Roll the edges up tightly on all four sides. Place into the dishwasher for a full hot cycle. Do not add any dishwasher powder.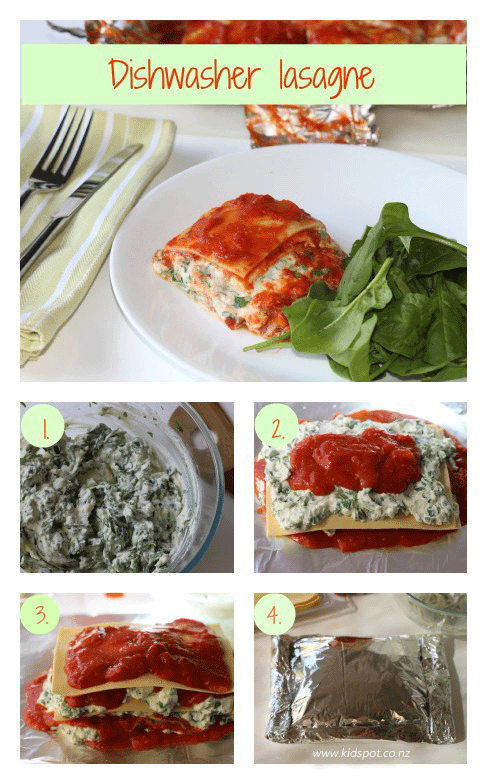 Notes:
I cooked this on the bottom shelf of the dishwasher. You need to ensure that the foil is not punctured in any way before cooking.
Do not attempt this with dried pasta sheets. The dishwasher does not have enough heat to cook those.
If you don't like spinach and ricotta, you can use bolognaise sauce and mozzarella cheese in its place.
If you want to try this recipe but just can't bring yourself to use the dishwasher then you can bake this in the oven on 180°C (160°C fan-forced) for 35 minutes.
This recipe was created by Jennifer Cheung for Kidspot, New Zealand's best recipe finder.
Find related lasagne recipes