Candy cane brownies
Serves:
Give chocolate brownies a Christmas twist by covering them with a rich white chocolate ganache and dusting them with crushed minty candy canes. It's the perfect treat for your festive season gatherings.
Makes 15
Ingredients
1 cup (250g) unsalted butter
200g dark chocolate
1 1/4 cups (205g) brown sugar
1/4 cup cocoa
1 1/4 cups (190g) plain flour
1/4 tsp baking powder
4 eggs, lightly beaten
250g white chocolate melts
1/2 cup (125ml) cream
20 small candy canes
Method
Step 1. Preheat oven to 180°C (160°C fan-forced). In a saucepan over low heat, melt butter and chocolate. Allow to cool slightly. In a large bowl, whisk together sugar, cocoa, flour and baking powder. Stir through melted chocolate mixture. Whisk in eggs. Place in a lined 20 x 28cm sandwich tin. Bake for 45 minutes or until just cooked.
Step 2. Place white chocolate melts with cream in a bowl over a saucepan of simmering water. Stir until melted and well combined. Pour over cooled brownie and refrigerate until set.
Step 3. Place candy canes between two sheets of non-stick baking paper. Pound use a kitchen mallet or rolling pin to crush into small pieces.
Step 4. Just prior to serving, sprinkle brownie with crushed candy canes. Slice into squares and serve.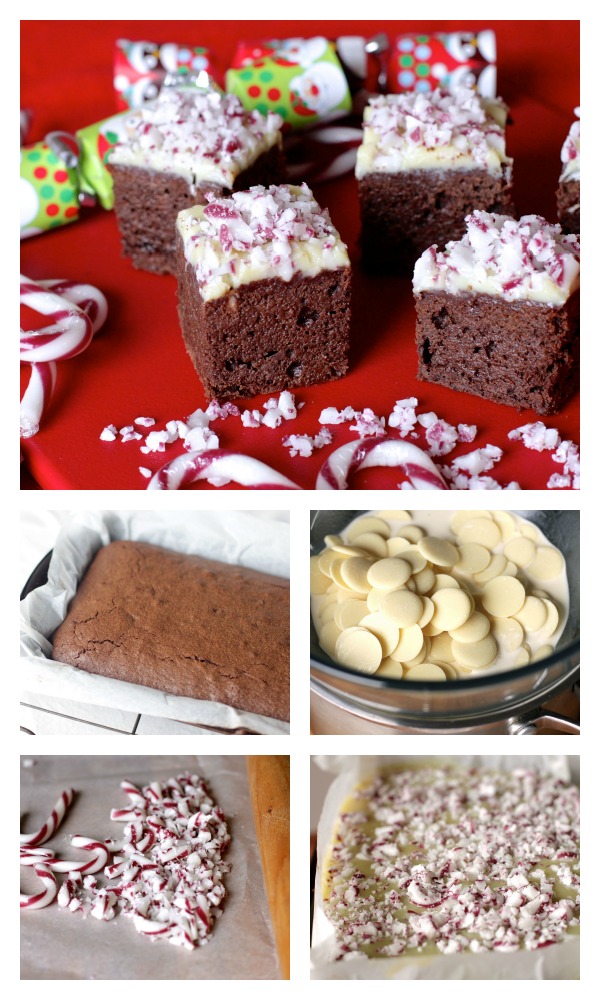 Serving Suggestions
Note
You could blitz the candy canes in a food processor for a more even, crumbly texture.
Don't refrigerate the brownies after adding the candy canes or they will lose their crunch and become chewy.
These Caramel Christmas apples are a delicious take on candy apples for the festive season.
You can make these Christmas chocolate spoons with the kids and enjoy some family time as you decorate them together.
These Edible glitter berries are the perfect addition to a platter, buffet table or even on the top of your favourite chocolate cake.
This Fruit Christmas tree  is a healthy alternative to all the indulgence of Christmas. It could be a beautiful edible centrepiece for your table.
If you like a round shortbread disc then this Christmas shortbread can be cut into "Petticoat tails".
You can make these Christmas ginger joy biscuits and thread them on string to create a Christmas decoration.
These Gingerbread families are made with a traditional gingerbread recipe and decorated with Royal icing.
This recipe was created for Kidspot, New Zealand's best recipe finder by Greer Worsley, who blogs at Typically Red.