Posh nosh, or simple kid-friendly fodder, either way, hosting an outdoor barbecue is your ticket to perfect home dining. A backyard barbecue is the NZ way of bringing special people and great food together – no doubt about it! So what are you waiting for?
Here are 35 ways to serve up a feast from the comfort of your own back deck.
Mains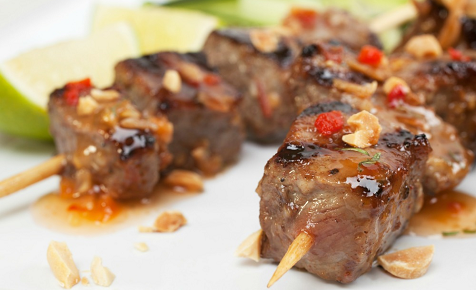 1. Beef skewers with peanut sauce
Serve up some tender meat on a stick, and you can never go wrong … especially when it's served alongside a flavour-packed dipping sauce!
2. Chicken rissoles with sweet chilli mango salad
What's a barbecue without some good old-fashioned rissoles? This dish ensures that you'll never have to find out!
3. Lemon garlic prawns
For a light summer meal with plenty of zest, you can't go past this grilled seafood staple. Best make extra, cos these little swimmers will be super popular.
4. Mini lamb burgers
Looking for tasty finger food to satisfy a hungry crowd? These more-ish little bites will hit the spot like nothing else can.
5. Barbecue pork ribs
Sticky, sweet and everything you could possibly hope for from a rack of juicy pork. If you've never made your own, now is the time.
6. Garlic and coriander chicken
Easy enough to make midweek, this barbecue chicken recipe is sensational on a bed of fluffy rice.
7. Steak with creamy mushroom sauce
There's nothing like a good piece of rump steak swimming in a mouth-watering mushroom sauce bath. Is it dinner time yet?
8. Barbecued salmon with asparagus
This fuss-free dish is full of goodness and bursting with fresh ingredients. Trust us, every bite is pure joy.
9. Beef with lemon balsamic marinade
Turn any piece of red meat into a feast fit for a king, with this divine cooking sauce. Bon appetite!
Salads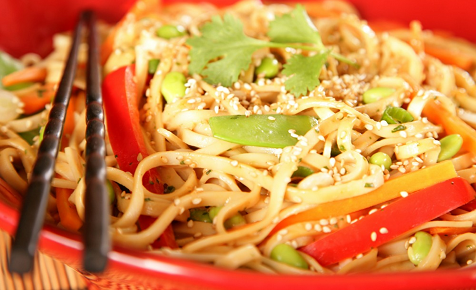 10. Asian noodle salad
Full of crunch and nutty flavours, this salad is the ideal accompaniment to a meaty barbecue meal.
11. Potato salad
A backyard barbie without a creamy potato salad just wouldn't be right, especially when it's a recipe as good as this.
12. Baby Caprese salad
Bocconcini, cherry tomatoes and baby basil leaves combine to create one of the most simple yet delightful salads ever invented. So yum!
13. Summery chickpea salad
This tasty salad goes well with any barbecue main, and is just as great the next day as a leftovers lunch.
14. Fig, prosciutto and pine nut salad
Here's an exciting way to add extra flavour to your next outdoor feast. And it will take you all of five minutes to throw together.
15. Pumpkin, potato and rocket salad
Inject some lovely roasted carbs into your next barbecue. This salad mixed with peppery fresh rocket ticks all the boxes.
16. Crunchy quinoa salad
Crisp veggies and aromatic herbs come together to make a colourful salad that doubles as a pretty table centrepiece. Bonus!
17. Warm broccoli and avocado salad
Particularly good with chicken and fish, this is one salad that could easily outshine the rest of your menu. Perfection plus.
Sides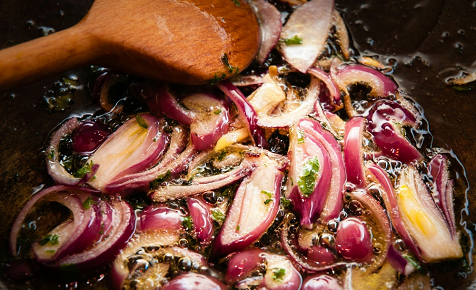 18. Caramelised onions
This homemade onion relish will transform plain meat and sausages into a culinary experience you won't want to miss.
19. Easy tortillas
Soak up all those succulent barbecue juices with this recipe for golden flatbreads. Budget-friendly and utterly delish.
20. Zucchini chips
These crispy baked bites will satisfy your craving for hot chips, but in an extra healthy kind of way.
21. Sweet corn hash
This sweet but salty side dish is destined to make a regular appearance on your dining table, that's our bold prediction.
22. Creamy cheese and garlic potato bake
Quick, easy and extremely delicious! What more could you possibly want from a crowd-pleasing side?
23. California salsa
For a burst of spicy goodness, this tomato, chilli and coriander mix will set your tastebuds alight!
24. Homemade Sizzler's cheese toast
Whack a few slabs of this thick cut, cheese-soaked bread on the barbie for a truly unique taste sensation.
25. Onion rings
Deep or shallow-fried, a big bowl of these scrummy babies will make your weekend barbecue complete.
Desserts
26. Frozen honeycomb slice
This creative take on a traditional ice cream dessert will receive rapturous applause from all those who are lucky enough to try it.
27. Salted caramel tarts
The most divine way to end any barbecue meal – all you need is three ingredients and 10 minutes,  and voila, dessert is ready!
28.  Baked cinnamon doughnuts with Nutella filling
Nutella lovers will think all their Christmases have come at once, when you serve up these decadent sweet treats.
29. Hearts and stars fruit salad
Not crazy about sugary desserts? This cute fruit salad with pretty cut-out shapes is a healthy alternative.
30. Pavolva
You can't get more authentic than this! After your fab NZ barbecue, a wedge of this classic and much-loved dessert will go down a treat.
31. Banana fritters
Sometimes the most simple dessert is often the best. Serve with a drizzle of maple syrup and a scoop of ice cream – this dish never disappoints.
32. Lemon meringue pie
A lip-smacking combo of fluffy, gooey, and crumbly bits, this dessert offering is always a family fave.
33. 2-ingredient white chocolate mousse
Need to whip up an exciting dessert in a hurry? Impress the fussiest of guests with a helping of this velvety little secret.
34. Ambrosia salad
Delight the kids (and grown-ups) with this fun take on a traditional fruit salad – laden with a few extra surprises. It'll be an instant winner.
35. Mango cheesecake with passionfruit sauce
This no-bake irresistible cheesecake is a cinch to make, but packs plenty of wow-power on the table and in your mouth.
*Source: Euromonitor International Limited; NIVEA in the category Sun Care,incl. Sun Protection, Aftersun & Self Tanning; in retail value terms, 2017. Always read the label. Use only as directed.